3 of the Best Modular Granny Flat Designs
Oct 4
A granny flat or backyard cabin is a great way to add space and value to your home. As the name suggests, traditionally, granny flats were built predominantly for older parents to allow them to be close enough to access support while also maintaining their independence. While this is still common, today, some are built for older children, to provide them with the additional freedom and independence that comes with having their own private space. Others might use their granny flat as a guest house if they often have visitors stay. Recently, there has been a growing trend towards building a backyard cabin to generate income, with many proving popular on accommodation websites such as Airbnb.
Whatever your reason for building a granny flat, a modular home can be a great option. With a large range of compact designs available, and plenty of flexibility to customise pre-designed homes or custom design your new home from the ground up, you're sure to find the perfect fit for your backyard space. Plus, the faster build times and offsite construction method of a modular build means you'll have less disruption at home and your granny flat will be ready to move into sooner. 
So, to help you narrow it down to the right floor plan, in this article we're featuring three modular designs that are a good fit for a modern granny flat—read on to discover the highlights.
1) Suburban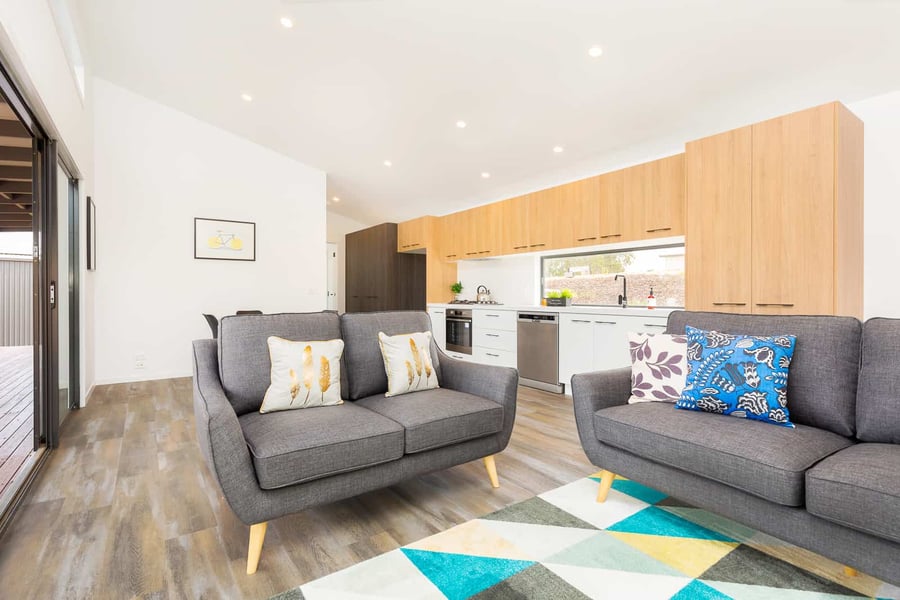 Stratford display home
The versatile two-bedroom Suburban modular design is popular for many purposes, and its compact size and feature-packed floor plan make it an ideal fit for backyard granny flats. The bright, modern central living zone creates a welcoming entrance, with the large sliding doors and highlight windows adding light and space. The bedrooms both have access to the optional front deck, and are located at either end of the house for peace and privacy.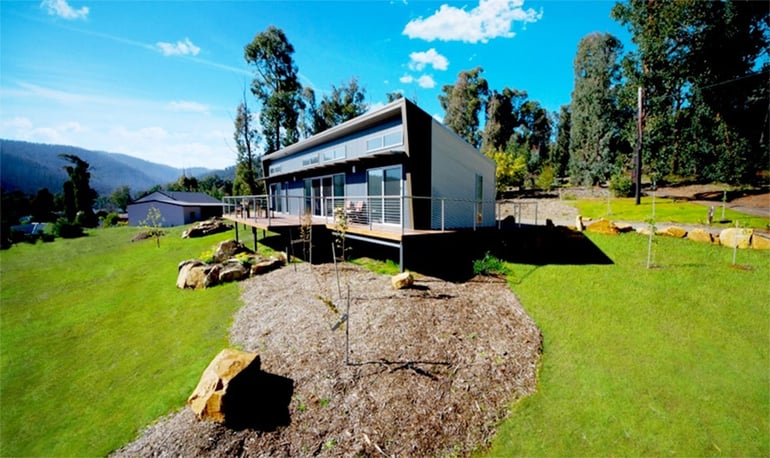 Marysville project
Our Marysville project showcases the design potential, with the optional deck providing the perfect spot to relax, enjoy the fresh air and take in the stunning mountain scenery.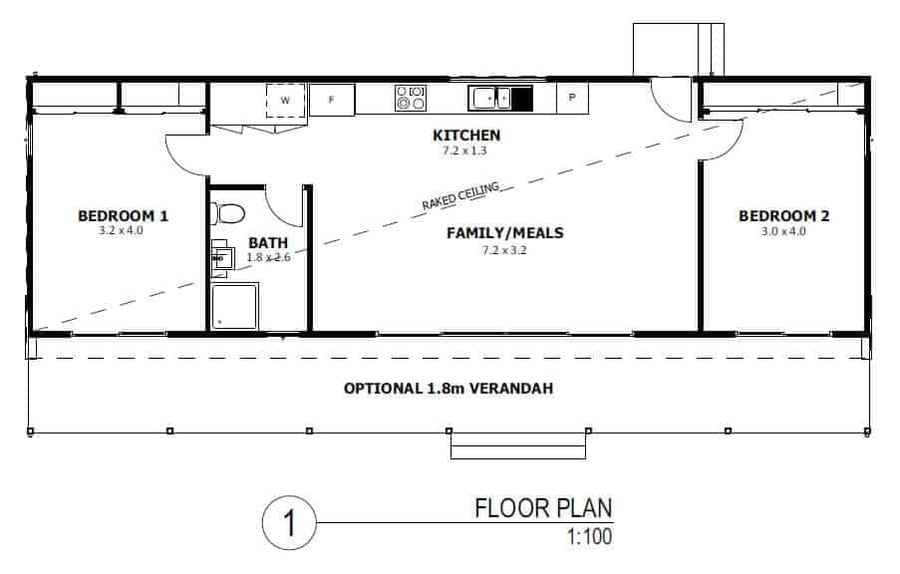 Suburban floor plan                                                                 
Dimensions and area: 15.6m x 4.8m/ 74.9m2
Standard facade and ceiling height: Single skillion/ Raked
Design highlights: Bright central living space, compact size, optional front deck.
For current pricing and inclusions, download our pricing guide.
2) Beaumaris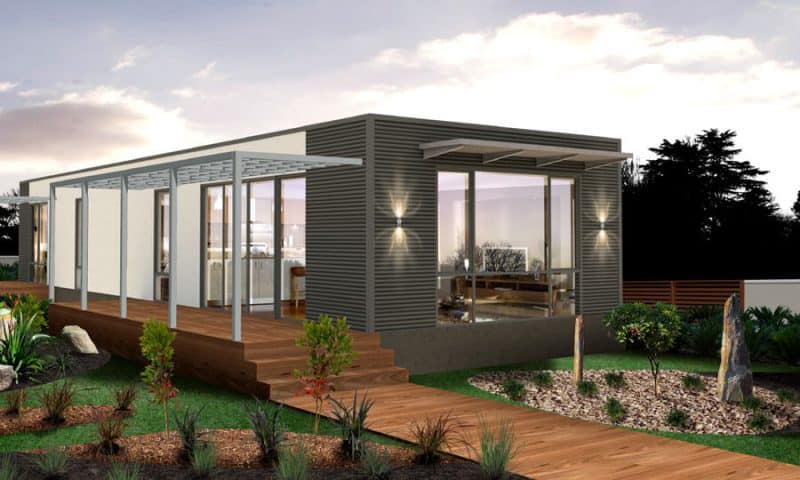 Beaumaris design
If you're looking for a compact granny flat, that's modern, low maintenance and sure to impress, the two-bedroom Beaumaris design is hard to beat. The cubehaus façade allows for 2700 ceilings, giving the design added space and light which makes a big difference in a home of this size. There's also the option of including two decks, providing easy access to the outdoors from the living zone and master bedroom.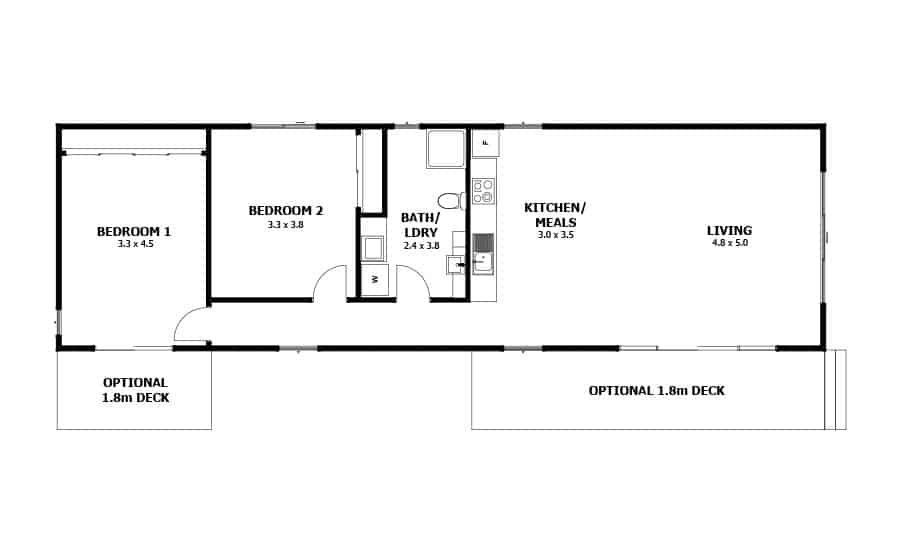 Beaumaris floor plan
Dimensions and area: 17.4m x 5.1m/ 88.8m2
Standard facade and ceiling height: Cubehaus/ 2700 level
Design highlights: Modern style, high ceilings, optional deck.
For current pricing and inclusions, download our pricing guide.
3) Portsea 12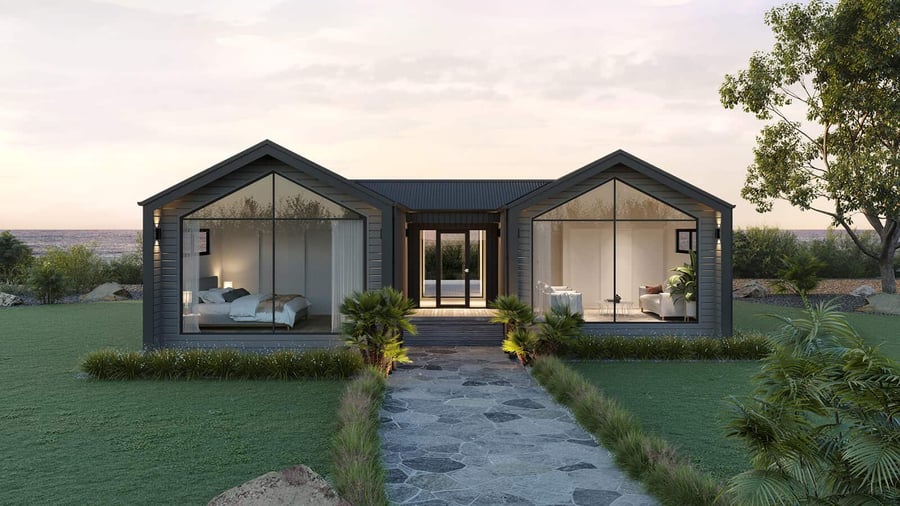 Portsea 12 design
If you have the space on your land, you may wish to build a slightly larger granny flat, and the two-bedroom Portsea 12 is a luxury option. As a recent addition to our modular range, it includes some smart inclusions and design features based on our client feedback, making it a joy to live in. The elegant design includes standard pricing on three different façade options, including the modern gable which includes stunning highlight windows as shown above.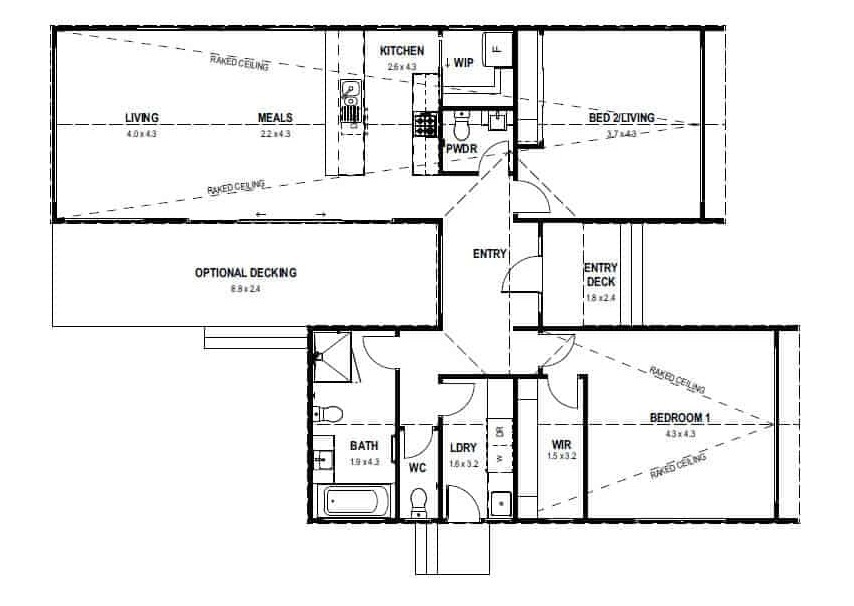 Portsea 12 floor plan
Dimensions and area: 11.4m x 15m/ 121.9m2
Standard facade and ceiling height: Modern gable/ 2400 raked, Cubehaus/ 2700 level or Skillion/ 2400 raked.
Design highlights: Central living space, four bedrooms, easy to customise.
For current pricing and inclusions, download our pricing guide.
A design to suit any granny flat project
Whether you're looking for a small design that's big on features, or a stylish design that's sure to impress, our range of two-bedroom modular homes is sure to have a floor plan that's the perfect fit for your granny flat project.
Have a question about building a modular granny flat? Please contact our team or post a comment below, we're always happy to help!